LUIS BARRAGÁN
---
---
Born in 1902 in Guadalajara (Jalisco, México), where he completed his studies and graduated as civil engineer and architect in 1925. After finishing school he went to Europe for two years on a trip for studies and leisure, without attending any academy or institution.
During this trip he became struck with the beauty of the gardens in the cities he visited, such as the Generalife in Granada and the ones in the villas of Italy and the Mediterranean coast. Since then he retained his interest for landscape architecture.
Back in Guadalajara he built some residencies, many of which where published in American magazines like Architectural Record, and also some Italian ones.
After his father's death in 1930, he took over the family businesses and made other trips to Europe. In 1936 he moved to Mexico City where he would settle permanently. Until 1940 he completed some apartment buildings and small residencies in the neighborhood of Cuauhtémoc.
From 1940 to 1945 he devoted part of his time to study planning and real state businesses and acquired properties in San Jerónimo. In these lands with an abundance of volcanic lava he revealed the possibility of building beautiful gardens in the rocks, which awakened his ambition to build a residential development there. He invited José Alberto Bustamante, a known business man who agreed to co-acquire a large extension of land in Pedregal de San Ángel. This was the year of 1945, three years before president Avila Camacho announced the construction of Ciudad Universitaria, which was built in lands adjacent to those of Bustamante and Barragán.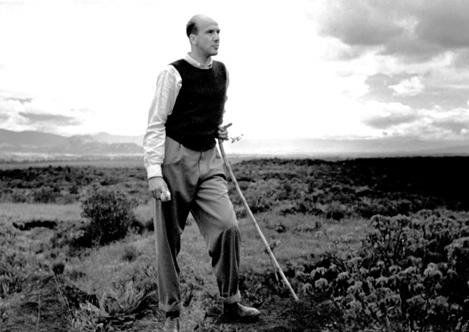 The architect developed the project in its totality for the firm Jardines del Pedregal de San Angel, S. A., which was the name given to this partnership. In the same complex he landscaped several gardens and ornamental pieces (fountains, fences, entryways, etc.) and stablished rules for construction so as to create architecturally harmonious surroundings and avoid spoiling the natural landscape's beauty. This development in el Pedregal took Barragán from 1945 to 1952, when he left he company. During this time he made several trips to Europe, and visited northern Africa.
Between 1952 and 1955 he continued to travel, built some residencies and tended to his personal businesses. He also began the reconstruction of the Capuchinas convent in Tlalpan, where he built a new chapel. During this same period he made some projects for urban developments along the Pacific coast (Manzanillo area), which where put on hold.
In 1955 he developed, for Banco Internacional Inmobiliario, the complete planning — including landscape and ornamental pieces — for the Jardines del Bosque residential complex in Guadalajara. Additionally, he landscaped the gardens for the Hotel Pierre Marques in Acapulco.
In 1957 he was invited by the company that developed Ciudad Satélite to build the symbol of urbanization, Barragán was already set on the idea of it being a group of vertical elements with great projection for advertising, and invited sculptor Mathías Goeritz to collaborate in the project.
That same year Barragán promoted a residential complex northwest of Mexico City, Las Arboledas, for which he designed and developed the full project, including ornamental pieces and general landscape architecture. He also took part in the creation of another urban development, the Club de Golf Hacienda.
In 1964 and 1965 he worked in partnership with another notorious architect, Juan Sordo Madaleno, in the great project of Lomas Verdes (which would not reach completion). Louis Kahn invited him to advise in the project for the Salk Institute of la Jolla, California in 1964. Soon after, he built Cuadra San Cristobal and Casa Egerstrom in collaboration with Andrés Casillas.
From 1969 to 1973 he worked on the — unachieved — projects for the master plan of Cano, in the state of Mexico. He also did El Palomar complex in Guadalajara, as well as the monumental fountain in Lomas Verdes with Ricardo Legorreta, along with other projects. In 1974 he built Casa Gilardi, the last of his works entirely finished by him.
In 1976 the New York Museum of Modern Art showed the first exhibition of his work and published a catalogue by Emilio Ambasz. This launched Barragán into international fame. That same year he was awarded the Premio Nacional de Ciencias y Artes (National Award for Science and Arts), in Mexico.
In 1979 he designed the Faro de Comercio for the city of Monterrey, and Casa Bárbara Meyer.
In 1980 he was awarded the Pritzker Architecture Prize.
By then, he was weakened by Parkinson's disease which prevented him from working. He went back to Guadalajara one last time in 1985, where he was awarded the Premio Jalisco. A great retrospective exhibition was shown at Museo Tamayo in Mexico City. In 1987 he was awarded the Premio Nacional de Arquitectura (National Architecture Price).
Luis Barragán died on November 22, 1988 in his Tacubaya residency, in Mexico City. The following day his remains were taken to Guadalajara where they now rest in the Rotonda de los Jaliscienses Ilustres.
---
---
© Fundación de Arquitectura Tapatía Luis Barragán A. C.