VISIT CASA LUIS BARRAGÁN
OPENING HOURS
Monday to Friday
11:00 to 17:00 hrs
last guided tour at 16:00 hrs
Saturday and Sunday
11:00 a 14:00 hrs
last guided tour at 13:00 hrs
ENTRANCE FEES
General
MXN $400.00 + service charges
National and mexican official residents
MXN $300.00 + service charges
National and international students/professors
MXN $200.00 + service charges
National seniors (INAPAM ID required)
MXN $200.00 + service charges
This entrance fee is used on the restoration and maintenance of Luis Barragán's works.
At your arrival, please show a valid ID according to the selected ticket fare (school ID, resident card) in order to keep the special fare.
VISIT THE MUSEUM AND ENSURE THE BEST EXPERIENCE.
The museum can be visited through guided tours in groups of 6 people at the most. Previous ticket acquisition is necessary.
Guided tours last for approximately 40 minutes.
Due safety reasons, the minimun age to visit is 12 years old.
Casa Luis Barragán is located in a public street with no parking lots available for visitors. In consideration to our neighborns, parking on the street is not allowed. We suggest to use parking lots near from the museum or to use other means of transportation.
Casa Luis Barragán reserves the right to modify the guided tour's route due to safety measures, restoration and maintenance works, adverse weather conditions, events, among other reasons. In the event of rain, exterior spaces will remain closed and not available for visitors.
REQUEST A VISIT FOR A GROUP OF 12 OR MORE PEOPLE
Given the characteristics and logistics of the museum, every group of 12 or more people must abide by the corresponding guidelines. For more information please request a group visit through the following form.
Group visits of 12 or more people are strictly subject to availability. It is necessary to make an early request, at least 3 weeks in advance in order to increase chances of securing a spot for the desired date.
The estimated reply time is from 3 to 5 business days.


NOTE: If your group consists of more than 6 people but less than 12 people, please acquire your tickets at the website for different time slots.
OTHER SERVICES
BOOKSTORE
Books and items in relation to Luis Barragán and architecture.
Opening hours
Monday to Friday: 11:00 to 17:00 hrs
Saturday and Sunday: 11:00 to 14:00 hrs
No ticket required to visit the bookstore.
CONTACT
For inquiries and more information you can get in contact with us through the following methods:
E-mail: informes@casaluisbarragan.org
Phone: (+52) 55810 40688
Whatsapp: (+52 1) 55810 40688
Contact schedule: Monday to Friday from 11:00 to 17:00 hrs.
You can expect a reply in a period of 1 to 3 business days.
DIRECTIONS
Address:
General Francisco Ramírez 12, Colonia Ampliación Daniel Garza, Ciudad de México. CP 11840
Metro:
"Constituyentes" station
Line 7 (orange)
Constituyentes direction exit
Metrobús:
"Parque Lira" station
Line 2 (purple)
Ecobici:
Station #188
Gob. Melchor Múzquiz - Gob. Ignacio Esteva
RTP Ecobús:
Bus stop: Gob. Melchor Múzquiz
Bust stop: Constituyentes
Route 34-A
(Metro Balderas-Santa Fe)
LOCATION MAP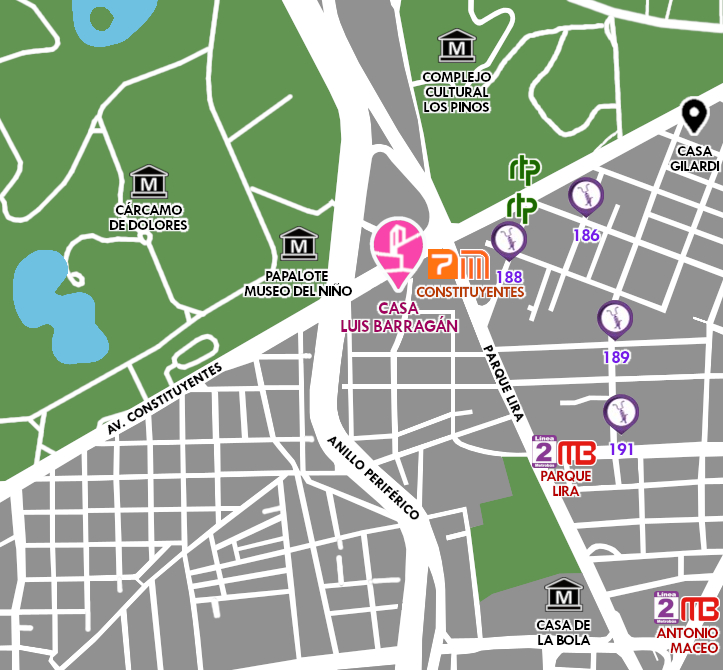 VISIT OTHER LUIS BARRAGAN WORKS IN MEXICO CITY
Every place is independent from each other. Please get in contact directly with each of them in order to schedule a visit.

Casa Ortega
Casa Gilardi
Casa Pedregal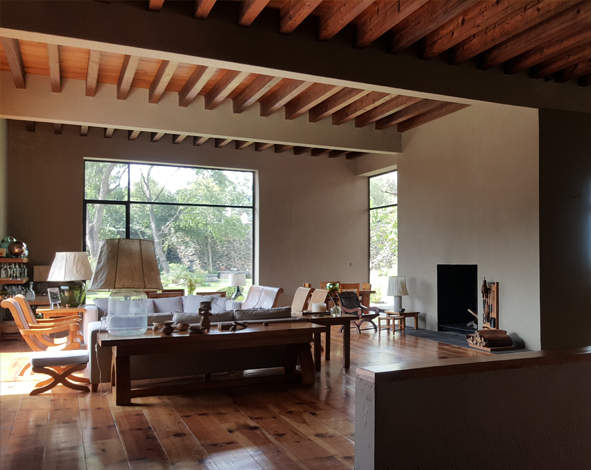 Capilla de las Capuchinas Sacramentarias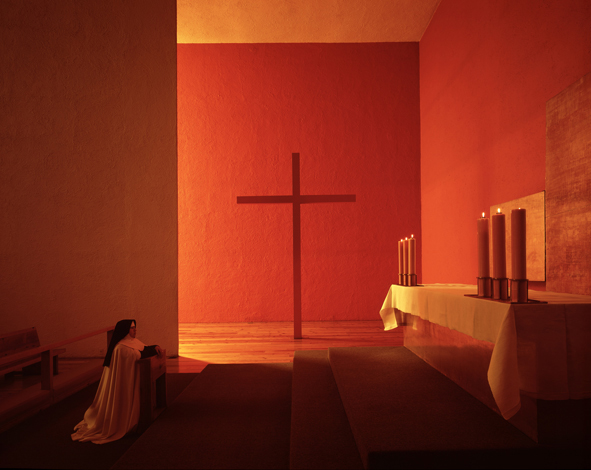 (+52) 55 5573 2395
Cuadra San Cristóbal